R400 Rubber has stood up to countless hurricanes for over 35 years. During Hurricane Andrew, roofs that were protected with R400 withstood hurricane force winds, while unprotected roofs were blown away.  R400 will stop existing leaks and prevent any further leaks from occurring. In addition, it will cool the roof significantly.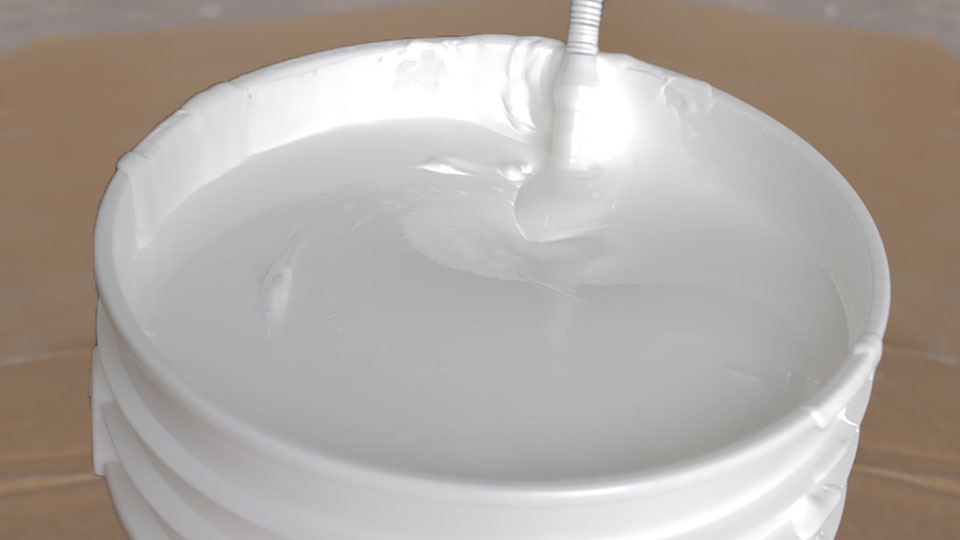 What is R400 Rubber Made Of?
R400  is a liquid applied material that dries like a thick sheet of rubber. It is made from the highest quality raw materials, and is manufactured to the highest standards in Fort Lauderdale, Florida, USA. The actual manufacturing process is of course, a trade secret. But it is produced in such a way that no fillers are used. When a roof coating is filled with clay additives, resin extenders, and water, the product is very absorbent. If a roof coating is absorbent, the life of the coating is greatly reduced and will need constant cleaning and re-coating. This is why R400 Rubber does not contain any fillers.
How it Works
When the R400 Rubber system is applied to a roof covering, the liquid easily seeps into all crevices and grooves. The liquid dries as a strong, flexible sheet of rubber, effectively sealing the entire roof cohesively. Thus the system stops roof leaks permanently, and withstands ponding or standing water.
The flexible properties of R400 Rubber are very important and advantageous. The roof underlayment or substrate flexes with temperature changes between day and night. Some inferior roof coatings will actually damage your roof because they are unable to expand and contract with the substrate. But R400 Rubber is flexible enough to absorb this movement, and will stop any further deterioration of the roof surface.
R400 Rubber does not need this constant maintenance. But it can be cleaned with a 3500 psi pressure cleaner without sustaining damage. Cheap elastomeric products can't be pressure washed and can even sustain damage from simply being walked on. R400 is a far superior product, able to withstand much more than it's competing coating products.
How and Where R400 is Used
The R400 Rubber Waterproofing System is an excellent option for most roof types. Commercial and residential flat roofs are commonly coated with this system. It can also be used to coat tile, cement and metal roofs. When ponding water is present, a polyester membrane is used with the rubber system.
To install the R400 Rubber system, the roof must be properly prepared in order to create the best seal possible. The rubber is applied like a paint, with rollers and brushes. Several coats may be applied as necessary. If the polyester membrane is needed, the rubber is applied on top, with several coats. Click to read more about the R400 Installation Process.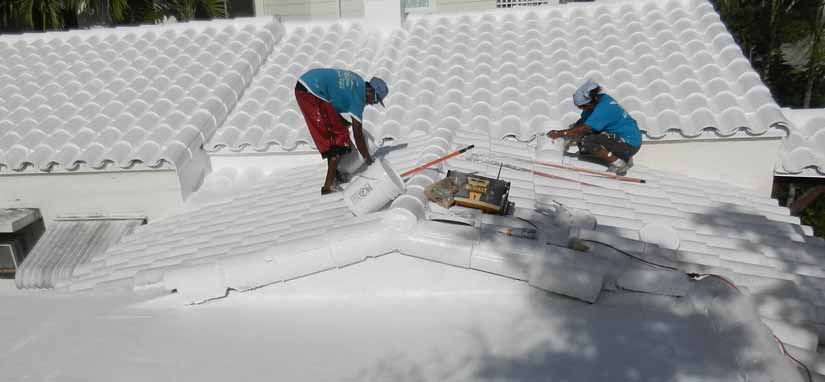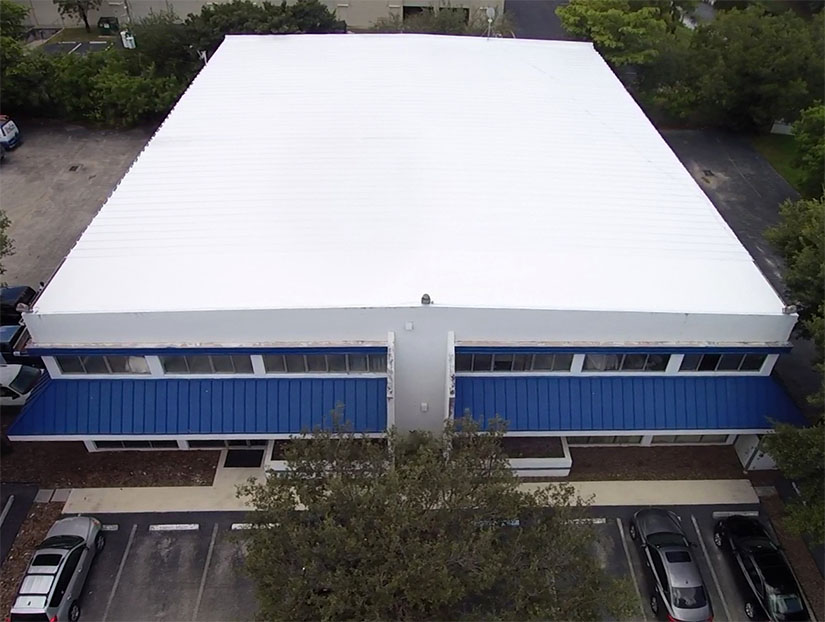 Our Expertise
Atlantic Coast Contractors is one of the most knowledgeable companies when it comes to the R400 Rubber Waterproofing System. We have installed this system on hundreds of homes and businesses. We proudly receive outstanding support from the manufacturer of the product, All White Manufacturing. The manufacturer trusted our company to install the product on their own building in Fort Lauderdale, FL. They trust us with customer referrals and their own family and business properties.
Our R400 Rubber Warranty
All of our R400 Rubber installations come with a 5 year labor warranty. A material and manufacturer warranty is provided as well. After 5 years, your warranty will renew with maintenance conducted by Atlantic Coast Contractors. Thus with periodic maintenance, your warranty will last forever. Maintenance costs are minimal, typically 30-40% of the initial installment price.
Reducing Cooling Costs
A normal roof's surface temperature will range from 120°F – 160°F. The surface temperature of R400 will not exceed 105°F. Part of this can be attributed to the massive UV rejection properties (90% of the total ultraviolet light), saving you an average of 20-30% on electricity costs.
R400 can be tinted to a  color of your choosing. But white is always recommended, because of it's highly reflective properties. As mentioned before, less color additives will ensure the products strength. And will greatly reduce the cooling costs of your home, office, or warehouse.
If you would like more information on this product please visit the Manufacturers Website.
If you would like more information regarding the R400 Rubber pricing please Click Here.

R400 Rubber Environment Friendly Attributes
We are proud to support the R400 Rubber Waterproofing system, because it is a GREEN product! All White Manufacturing has worked hard to create a sustainable product as well as a low-energy manufacturing plant. R400 has been independently certified by Energy Star as a product that saves energy without sacrificing features or functionality. Here are some ways that R400 contributes to the reduction of climate change:
The reflective coating reduces the "urban heat island effect"
Reduces use of tar products which would end up in the local landfills
White roofs absorb less light, keeping the roof significantly cooler
Cooler roofs mean it will take less energy to cool homes and buildings
Coated roof are less likely to sustain hurricane damage – less debris in our environment
Prevents metals from rusting, creating less waste
Manufacturing plant uses less power than an average home
All containers are recycled and reused
If you would like additional information on R400 Rubber, please feel free to visit the Manufacturers Website.
If you would like additional information on R400 Rubber pricing and accessory pricing please Click Here.